Hot rumor! Nikon bought Samsung NX mirrorless tech!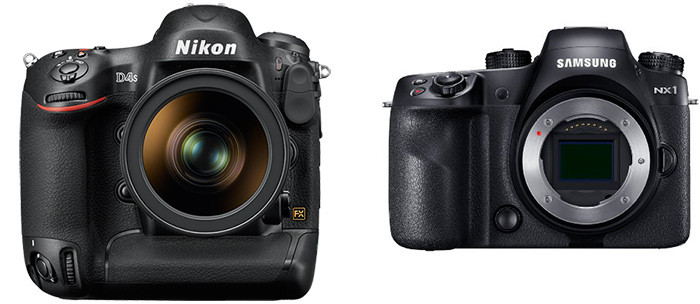 The following rumor comes from TRUSTED sources! It's a news coming exclusive on Nikon-Mirrorless.com (forum) and Mirrorlessrumors.com (blog) first and to get more of those please subscribe our RSS feed, Facebook page and Twitter stream. If you copy that news please credit us..thanks :)
Nikon acquires Samsung NX tech!
The past weeks we had long chats with our Samsung sources about the recent shut down rumors. And they told us the reason why Samsung is stopping the camera sales: Nikon acquired all the Samsung NX tech! That acquisition could (I said could!) be made public in January at the CES. As we have been told Samsung will have a major press announcement there.
What Nikon plans to do:
Nikon will use Samsung NX resources to launch their professional mirrorless system. It is yet unclear if Nikon will keep the NX mount or use an own new mount. That info is not accessible to our Samsung sources (it's a decision that will be taken by Nikon). The "resources" we are talking about also include Samsung sensor tech, video tech and processor engine. Pro and Cons of the partnership can be read and discussed here on Nikon-mirrorless forum.
Nikon, Sony and sensors:
Samsung sources clearly told us it was Nikon priority to create a serious competition to Sony. And to do that they decided to buy the current Samsung NX expertise and enter a new sensor partnership. Samsung sensors are known to be as good if not better than Sony sensors. See the NX500 vs A6000 sensor score comparison at DxOmark (discuss at NikonMirrorless.com). If that sensor tech will be used on the new mirrorless system only or also on DSLR cameras is yet unclear.
Summary: This is what happens:
1) Samsung stops NX sales
2) Nikon buys the current Samsung developed NX tech
3) Nikon will also enter a strong partnership with Samsung. Samsung will keep developing and selling sensors to Nikon.
4) Nikon will launch a new professional mirrorless system based on Samsungs acquired technology.
More details will be posted and discusses on a new Nikon mirrorless forum we just launched: nikon-mirrorless.com. Please subscribe there to get detailed news in advance. Also let us know in that Nikon Mirrorless Thread what you hope to see from Nikon. And vote if Nikon should keep the NX mount or not.
Stay tuned!
–
Some more discussion: Should Nikon revive the "old" FM desing style on their new mirrorless cameras?