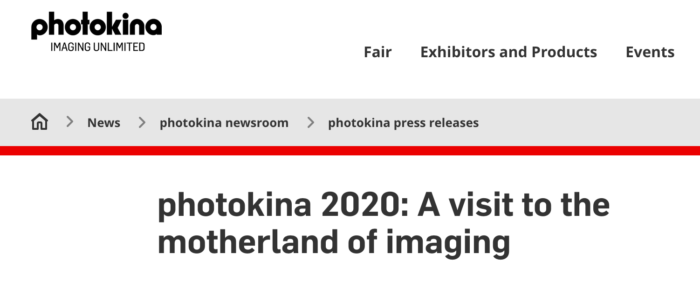 The Photokina organization issued a press release to confirm the presence of over 600 companies at the show start in May 2020. They also shared the following statements from Canon, Panasonic and Sony
Panasonic manager Yosuke Yamane said:
"For many years, photokina has been the ideal platform for us to present our product innovations. The Imaging industry is facing big changes and challenges these days. In 2020, we will also be coming to Cologne with big expectations in the new photokina format and are looking forward to contributing with great innovations.
Canon manager Go Tokura said:
"As the imaging industry is at a significant turning point, we expect photokina to be a leading show of the worldwide photo and imaging industry. Canon is eager to introduce new products and concept products at photokina, thereby contributing to the industry's success."
Sony manager Yosuke Aoki said:
"Sony is very glad to be part of Photokina again next year. Photokina 2020 gives us the opportunity to present our latest innovations and to maintain a direct dialog with all Digital Imaging Lovers. Sony is looking forward to seeing you all in Cologne." 
As a reminder: Leica, Nikon and Olympus will NOT be there.
via PetaPixel