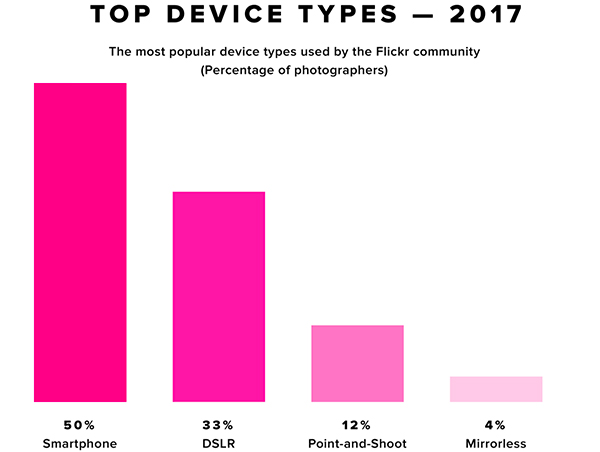 Flickr just released some interesting data about the photos uploaded in 2017:
Smartphones accounted for 50% of the photos uploaded to Flickr, up from 48% in 2016.
DSLR was 33%, up from 25% in 2016, and point and shoot was 12%, down from 21% in 2016.
Mirrorless remained at 4% of total uploads for the third year in a row.

When it comes to brands, Apple iPhones remained the dominant camera models, with 54% of the top 100 devices being named iPhone and an almost clean sweep of the top 10 Devices of 2017, accounting for 9 our of the top 10 devices. The Canon 5D Mark III placed 9th in the Top 10 Devices on Flickr of 2017. The iPhone6, iPhone6s, and iPhone5s were the most popular iPhone cameras respectively. Canon was the second largest brand used by photographers on Flickr, responsible for 23% of the top 100 devices. Nikon was the third most popular brand of 2017, with 18%.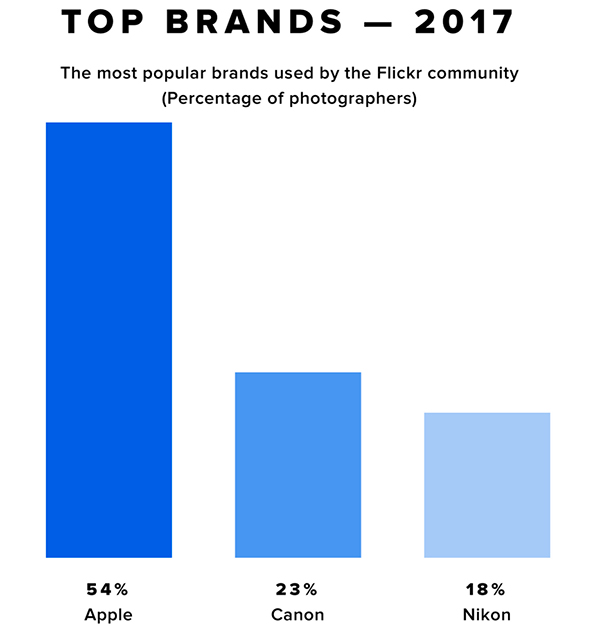 The growth of DSLR images and stall of Mirrorless goes against the recent reports from CIPA. Those data suggest mirrorless camera shipments are still growing while DSLR is not. Dpreview analyzed that CIPA data and wrote:
Compared to October 2016, only 78 percent of DSLRs were shipped globally, but 112 percent for mirrorless, indicating that mirrorless is continuing its rise while simultaneously cannibalizing market share from its DSLR cousins. Most of the mirrorless shipments are going to the Asia region, though, which still accounts for more than 50 percent of all mirrorless cameras shipped. Globally, mirrorless is now 36 percent of the total market for ILC.
A possible explanation is that mirrorless is very popular in Asia. And Flickrs is mostly a place for the so-called "western countries". But that's just my guess.