Toyokeizai reports: "Nikon's camera business is on the brink" and the company answers that they will now focus purely on mirrorless.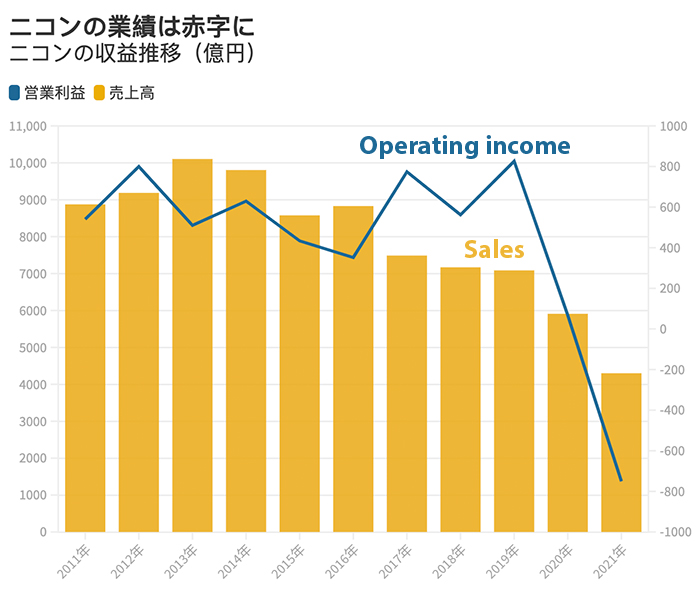 Toyokeizai published an article that sounds very worrisome for Nikon. They think that Nikon might be "the next Olympus". Digitalcamerainfo summed up the key points of the article (Note: google translated):
Can Nikon really continue its camera business? Many camera users are now in great anxiety. Nikon's operating loss for the April-September period of 2020 fell to a deficit of 46.6 billion yen (compared to a surplus of 17.5 billion yen in the previous fiscal year). The operating deficit of 75 billion yen in the fiscal year ending March 2021 (compared to a surplus of 6.7 billion yen in the previous fiscal year) is expected to be the worst scale ever.
Nikon's business performance has deteriorated sharply because the video business, such as cameras, which accounts for about 40% of sales (results for the fiscal year ended March 2020), is in the red. The video business for the fiscal year ending March 2021 is expected to have an operating deficit of 45 billion yen. In the fiscal year ending March 2020, the deficit was 17.1 billion yen, which is expected to be the second consecutive deficit.
Bad news comes one after another. In June 2020, Olympus announced that it would transfer its video business to an investment fund. Decided to withdraw from the digital camera market. On the internet site where camera users gather, there are voices of anxiety asking, "Is Nikon next?"
Some professional photographers are worried that if the deficit continues for this long, Nikon will withdraw from the camera business and the lens assets it has purchased will be lost.
The day after Toyokeizai interviewed a Nikon manager and here are the key points summer up by Digitalcamerainfo:
Nikon hastened to reduce personnel and reorganize production bases, but the key to reconstruction is not cost reduction, but recovery of sales. We spoke with Managing Executive Officer Hirotaka Ikegami, who leads Nikon's video business.
In April (sales of Nikon), the number of interchangeable lens cameras sold decreased by 80% from the same month of the previous year, and the first quarter (April to June 2020) was really difficult. However, starting with China, the world market is recovering faster than expected.

Rather than being afraid of conflict (single-lens reflex and mirrorless), I couldn't see the market calmly and objectively.

When I entered the mirrorless camera, I was most concerned about how much the EVF could improve and even if the number of shots was small. A single-lens reflex camera can shoot more than 1000 shots, but a mirrorless camera with high power consumption can only shoot about 500 shots. I was wondering if it would be accepted by rock formation customers such as professionals and high amateurs (with that number of shots).
The EVF manufactured by Nikon has very good performance and is highly evaluated compared to other companies. There is also an evaluation that it is indistinguishable from the OVF of a single-lens reflex camera, which leads to confidence.
There is a summary also on Petapixel.