Tokina's new 300-600-900mm Reflex trio sales start on February 3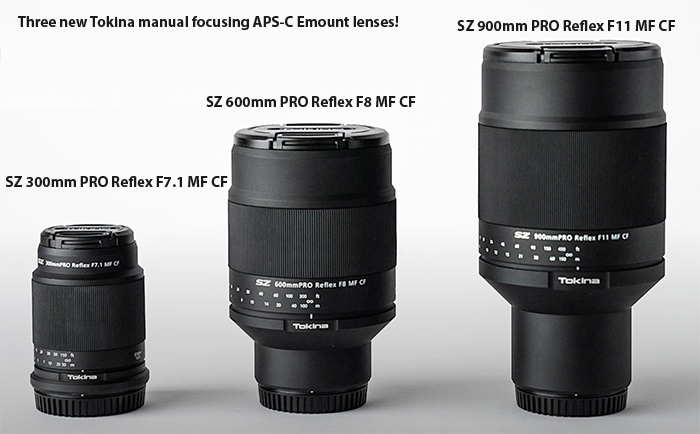 Tokina Japan announced that it will start shipping out their new APS-C Reflex trio on February 3. Press text:
Tokina SZ PRO series reflex lens worldwide sales date announcement
Kenko Tokina Co., Ltd. is proud to announce the sales release of the Tokina SZ PRO series reflex lenses.
Sales will commence on February 3, 2023.
The SZ 300mmPRO Reflex F7.1 MF CF, SZ 600mmPRO Reflex F8 MF CF and SZ 900mmPRO Reflex F11 MF CF are fully manual lenses, which adopt a catadioptric-type optical design. These lenses come in 300mm, 600mm and 900mm focal lengths, and are exclusively designed for APS-C mirrorless cameras. They incorporate integrated mounts for Sony E, Canon EF-M, and Fujifilm X. SonyAlphaRumors
Thanks to a catadioptric optical design these lenses are very light weight and super compact. These products allow you to enjoy the world of super tele photography, and is a perfect option for users who are looking for affordable super tele photo lens.
Highlighted Features
Ultralight and compact.
Better suppression of chromatic aberrations.
Low level flare and ghosting.
Integrated mount.
270° focus rotation angle.
Perfect round-shaped donut bokeh.
1:2.5 (0.4x) macro capabilities.