The Fuji X-T4 will cost $1,699 and have a myriade of new features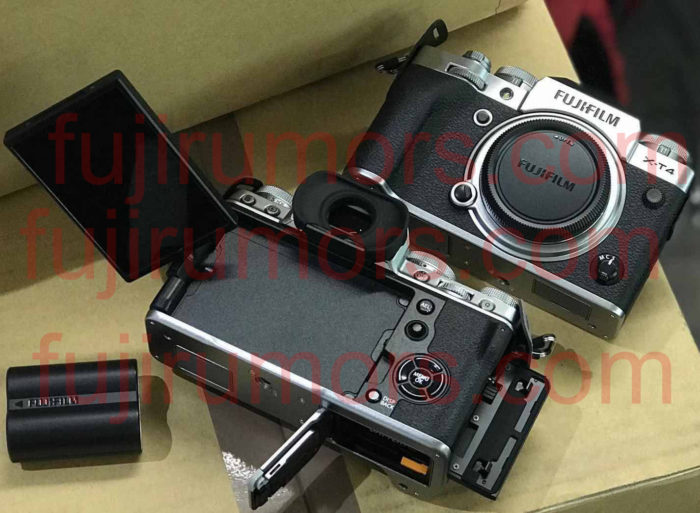 Above you can see the newly leaked images of the X-T4 (with the battery). The camera will cost $1,699 which I consider to be a very good price for the features it has. Those are the full specs shared by Fujirumors:
26MP sensor of X-T3
dual SD-Card slot
new sub dials (see below)
flippy screen (see below)
deeper buffer
a bit thicker
no 6K
2350 mAh battery
battery looks almost the same like the Nikon EN-EL15b
Fujifilm X-T4 looks almost identical to the Fujifilm X-T3
Fujifilm X-T4 has basically the same grip
Only real noticeable difference, is the flippy screen instead of tilt screen
Fujifilm X-T4 has still an exposure compensation dial. No top LCD like X-H2
there will be exactly the same amount of buttons of the X-T3, and in exactly the same position
however, the buttons will be marked differently (comparison below)
the sub-dials will have different markings, too, such as "Video", "Still" and also "HDR"
af Assist Lamp moved a bit higher
the X-T4 is a bit bigger than X-T3. You gotta fit that huge battery and IBIS in the body ;)
No Pixel-shift yet.
USB PD protocol implemented, as it charged very quickly with a PD 30W USB-C charger. Not so fast with a normal QC charger.
IBIS can go up to 6.5 stops with some of the prime lenses.
Multiple Boost modes including normal / economy / boost AF / boost FPS / boost Res etc.
X-T4 rear screen 1.62m dots [X-T3 has 1.04m dots]
IBIS is great.
NP-W325 battery rated at 2200mAh 16Wh
Classic Negative and Bleach Bypass film simulation added.
CH mode has 15 fps, and the slots are faster at writing to cards. [X-T3 has 11 fps]
Not a touch shutter like X-H1. [the leaf spring shutter release button]
Priced at 1700 USD.