Sony claims they are now number one in the USA Full Frame market….will it last?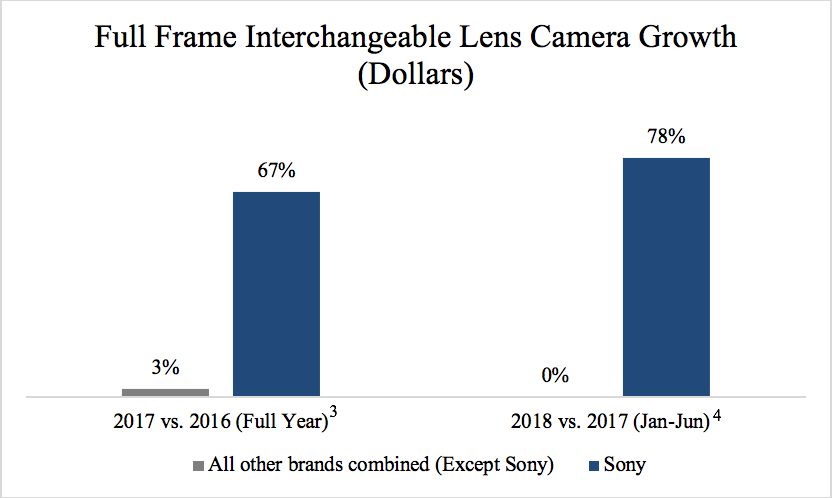 A chart summarizing Sony's rapid growth in the Full-frame market
Seems like Sony is eager to counterattack the Nikon FF mirrorless launch press coverage. Today they announced that they are now number one in the USA Full Frame camera market. Based on dollar and unit sales between Jan. – June 2018 they lead ahead of Canon and Nikon.
But will it last? Both Canon and Nikon will answer soon. And as we have seen on the Japanese market even a not so perfect EOS-M50 was able to take over the mirrorless market lead pretty quickly!
This is the Sony press text:
Sony Celebrates No.1 Overall Position in U.S. Full-frame Cameras with Launch of Historic "Be Alpha" Campaign
— The Leader in Full-frame Empowers Creators of all Types to Continue to Innovate, to Lead, to Push the Limits, to "Be Alpha" —
SAN DIEGO, Aug. 15, 2018 – Sony Electronics, Inc. – a worldwide leader in digital imaging and the world's largest image sensor manufacturer – today announced that it has overtaken and held the No. 1 overall position in the United States full-frame interchangeable lens camera market in the first half of 2018, in both dollars and units (1). In fact, four out of every 10 full-frame cameras sold during this time period have come from the Sony brand (1).
Additionally, Sony has announced that within the overall mirrorless market, it has held the No. 1 position in both dollars and units for more than six years (2). These strong results can be attributed to the company's leadership in transitioning the market from older DSLR technology to next-generation mirrorless cameras.
Much of Sony's recent success has been driven by sales of the acclaimed ?7R III and ?7 III models, as well as the rapid adoption of the ?9 camera amongst professional sports photographers and photojournalists. The brand's extremely active community has played a major part as well, as evidenced by the strong engagement on key social platforms like Instagram, where the official @SonyAlpha page has just surpassed the coveted one million followers count.
As a celebration of these historic achievements, Sony has announced the launch of its extensive "Be Alpha" campaign that will connect creators of all types with the brand and its ever-growing roster of talented photographers and videographers.
"We're extremely proud of achieving No. 1 overall share in Full-frame cameras in the US market, as well as holding a strong No. 1 share in the mirrorless market for six years running" said Neal Manowitz, vice president of Digital Imaging at Sony Electronics. "More than anything, we owe this to our community. It is our pleasure to create for you, the true creators. You pushed us to innovate, to change, to continually adapt, and your voice remains core to everything we do."
Manowitz added, "To 'Be Alpha' is to be a leader, to be an innovator, to stand out amongst the crowd. It represents everything we stand for as a brand. Our campaign will celebrate the extended Sony community, while also shining a light on the topics that that we are most passionate about – diversity, conservation, equality and much more."
Sony's "Be Alpha" movement will be headlined by a series of community events in major markets throughout North America in 2018 and beyond, beginning with the official launch event on August 19, World Photography Day, in New York City. The campaign will encourage all creators to get involved by sharing their own "Be Alpha" content on all relevant social platforms while tagging #BeAlpha.
The "Be Alpha" campaign will also feature programs that are designed to foster growth in both the current and next generations of imaging professionals, the most notable of which being the flagship "Alpha Female" program. This multi-tiered, female exclusive program is Sony's thoughtful response to the imaging industry's well-documented diversity challenges. It will include a variety of grants and mentorship opportunities for female photographers and videographers, as well as the production of several large-scale industry events. Additional details to be released soon.
All key information regarding Sony's "Be Alpha" movement, including the campaign launch video, will be hosted at www.alphauniverse.com/BeAlpha. This page will be continually updated with information on new events, content pieces and more.
A variety of additional stories and exciting new content shot with Sony products can be found at www.alphauniverse.com, Sony's community site built to educate, inspire and showcase all fans and customers of the Sony ? brand.
–
1, Source: The NPD Group, Inc., U.S. Retail Tracking Service, Detachable Lens Camera, Sensor Size: Full Frame, Based on dollar and unit sales, Jan. – June 2018.

2, Source: Sony internal historical data sources.

3, Source: The NPD Group, Inc., U.S. Retail Tracking Service, Detachable Lens Camera, Sensor Size: Full Frame, Based on dollar sales, Jan.- Dec. 2017 vs. Jan.- Dec. 2016.

4, Source: The NPD Group, Inc., U.S. Retail Tracking Service, Detachable Lens Camera, Sensor Size: Full Frame, Based on adjusted dollar sales, Jan.- June 2018 vs. Jan.- June 2017. Sales are adjusted for 5wk Jan. 2018 vs. 4wk Jan. 2017.