New MS-Optical History-Prot 58° 40mm f/6.3 Macro for Leica M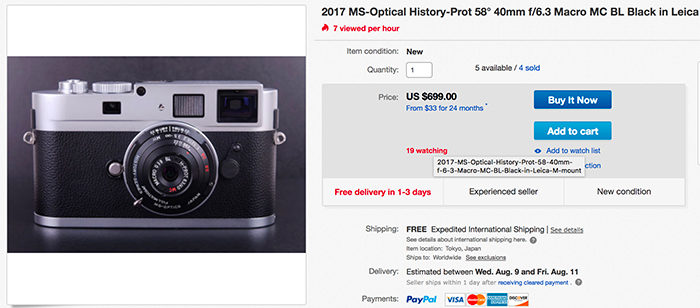 The new MS-Optical 40mm f/6.3 macro lens for Leica M is now listed on eBay (Click here).
Description via Japancamerahunter:
Miyazaki has been a very busy man lately. Not content with releasing a series of new regular lenses, he has also started working on the History Series of lenses.
And this is the fist in the series. The Prot 40mm 6.3, based on a classic design known as the Protaria lens formula which was designed by the legendary Rudolph Zeiss. I am still awaiting a full translation of the accompanying text about the lens.
This is a minute lens, weighing in at only 47 grams. it has a close focus of 60cm. 4 elements in 2 groups.
A fascinating little lens and something quite a bit different from what you usually see. A slower lens for a slower pace.