New images and info about the Fuji GFX100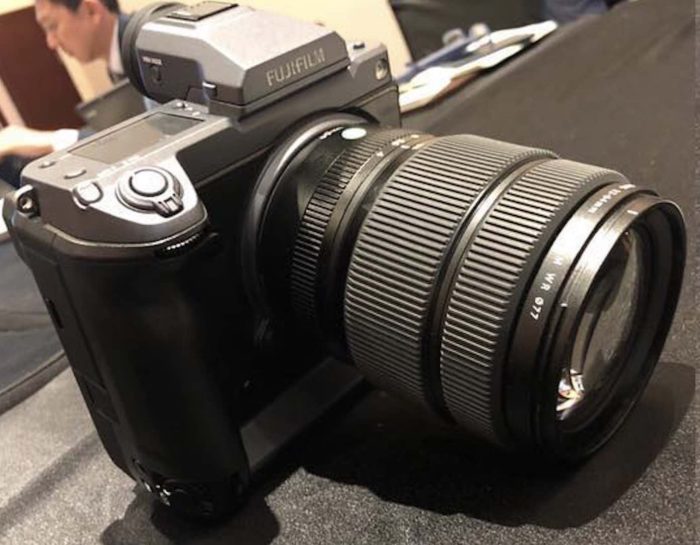 Fujirumors got hands on the new GFX100 prototype and detailed info from a Fuji presentation:
GFX 100 Main Specs and Features
1) Best Image Quality in Large MF Format
Announcement 1st half 2019
Shipping first half 2019
Launch price around $10,000
World's first 102M pixels 43.8×32.9mm new BSI CMOS sensor as a mirrorless digital camera
X processor 4
5.76M-dot interchangeable EVF & Tilt Adapter
2) High Speed Medium Format
World's first on board Phase Detection Hybrid AF as a medium format digital camera
approx. 100& coverage PDAF on Sensor area
3) High Performance Medium Format
World's first in body image stabilization as a medium format digital camera
mount: 65mm. Short Flange back: 26.7mm
4) New world with Medium Format
world's first 4K/30p video as a medium format mirrorless digital camera
New Shooting mode switch operation with larger "Sub Monitor"
GFX100 doesn't have dials on top plate (S.S/ISO dial, Exp. Comp. doa) for realizing Still/Movie hybrid camera for professionals, GFX100 has a shooting mode dial (Still/Multi/Movie) on top
In studio or any shooting condition professionals need quick setting for both still and movie, but physical dials sometimes delay the set-up to shoot. So GFX100 has both Still and Moview setting just switching the mode dial and realize quick check all settings on sub monitor.
And for tether shooting from PC it also helpful to change setting on both PC or camera and check easier on any monitors
Of course it also effective for reducing the body size and weight
World's onboard PDAF in Medium Format Camera
Approx. 100% coverage
-2EV @ F2, 50% faster autofocus performance
This large sensor features high-speed phase detection AF. Phase detection pixels are embedded at high density across the sensor surface to provide high-speed autofocusing with excellent accuracy. The camera to reach a new audience in moving subject medium format photography. This system meets and exceeds the create needs of professional photographers.
The Worlds' first 102M pixels mirrorelss camera
New 102 megapixels guarantee not only image quality as the sensitivity, noise and dynamic range. the construction will be "backside illuminated structure". It must be performed for sensitivity and capacity of photons and also support faster aperture by oblique light waves.
World's 1st IBIS in Medium Format Body
102 Megapixel must be sensitive for any vibration. Target performance: 5.0 stops!!
This is the world's first medium format interchangeable lens digital camera, equipped with "In-Body image stabilization". The IBIS functionality rewrites the rules for medium format cameras, giving users the ability to handhold a high-resolution camera in all types of photography scenarios