New Hasselblad $5,750 X1DII 50C camera and XCD F3.5-4.5/35-75mm lens officially announced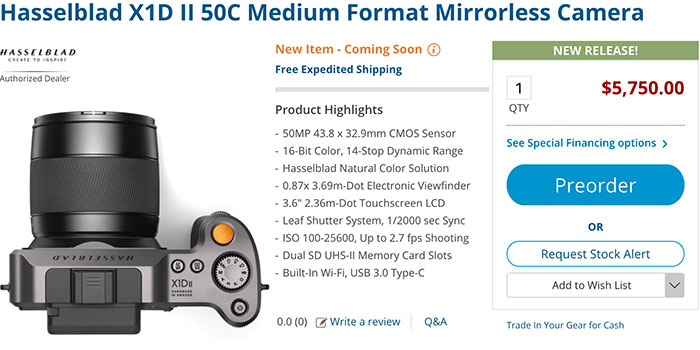 Hasselblad just announced the new X1DII and you can preorder it for $5,750 at BHphoto.
Image samples on this Hasselblad page.
Specs sheet on this PDF file.
First impression by ThePhoBlographer.
New 35-75mm zoom lens Hasselblad page.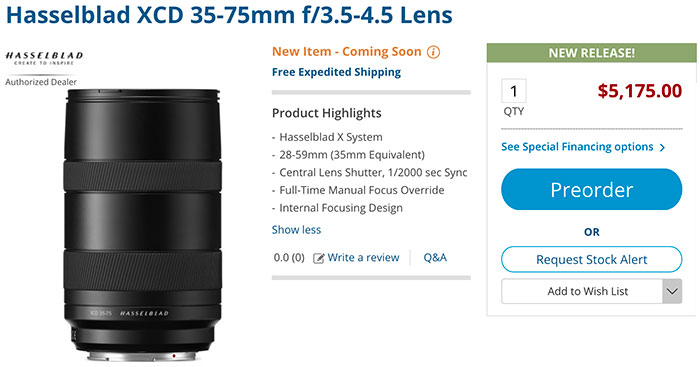 Press text:
X1D II 50C
COMPACT. POWERFUL. ENHANCED.
Based on the iconic, award-winning design of the first generation, the enhanced X1D II 50C is a compact, powerful mirrorless medium format camera with an excellent 50MP CMOS sensor packed into a lightweight, portable build. With outstanding colour definition, 14 stops of dynamic range, and Hasselblad Natural Colour Solution technology integrated into the camera's system, the X1D II 50C delivers superb, true-to-life tones that match what the human eye sees. The X1D II 50C's upgraded electronic platform includes a brilliant 3.6-inch 2.36-million-dot touch display and an enhanced OLED electronic viewfinder (EVF) with 3.69-million dots and a high magnification of 0.87x, both featuring a higher resolution, a faster live view refresh rate, and an even quicker and intuitive user interface control. Shutter lag and black out time between frames have been reduced in addition to a startup time cut almost in half from the first generation.
Built-in Wi-Fi and USB-C connection enable a portable medium format workflow with Phocus Mobile 2, allowing the photographer to transfer RAW and full quality JPEG files directly from the X1D II 50C and edit RAW images on their iPad Pro. Dual SD card slots, now supporting the faster UHS-II standard, ensure optimal storage space or the option to back up images to a second card when shooting. With access to the full line of XCD Lenses in addition to HC/HCD Lenses, V System Lenses, and XPan Lenses via the XH Adapter, XV Adapter and XPan Adapter, respectively, the X1D II 50C boasts a varied lens line up of high-class medium format optics for endless creative possibilities. The X1D II 50C lets the photographer bring the beauty of medium format outside of the studio, capturing the world around them with Hasselblad's renowned, stunning image quality.
In the Box
Camera body, Battery, Battery charger, USB 3 cable, Camera front protective cover, Shoulder strap, Quick Start Guide
Specifications
50 MP Medium Format Mirrorless Digital camera with Autofocus, Auto exposure, interchangeable lenses. Dimensions of complete camera w/ XCD 45 mm lens: 148 x 97 x 125 mm [W x H x D].
Camera Body only: 148 x 97 x 70mm
Weight 1230 g (Complete camera with XCD 45 mm lens, Li-ion battery and 2 SD cards)
650g (Camera Body)
Compatibility
X System accessories and adapters. XCD lens range
Estimated time of delivery:
July 2019

The new zoom lens: