Just like Sony also Canon now patented its first lenses made for Full Frame curved sensor cameras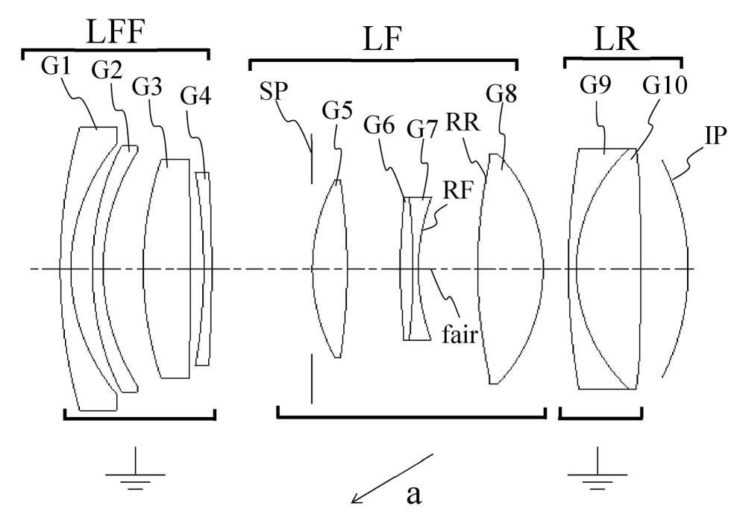 Sony had already patented this idea years ago (SAR article here). And Canon is now following: They just patented their first lens designs made for a hypothetical future Full Frame curved sensor system.
A curved sensor would allow for a more compact design as you would not have to add a lot of glass to correct for corner issues. No more corner sharpness issues! The trade off is that of course it's way more expensive to make such curves shaped sensors. So I have no clue when this idea will make it into a real production camera.
CanonWatch listed the lens specs:
Embodiment 1
Focal length 51.50 mm
F number 1.24
Half angle of view 22.79
Image height 21.64 mm
Lens length 75.01 mm
BF 9.10 mm
Embodiment 2
Focal length 51.50 mm
F number 1.24
Half angle of view 22.79
Image height 21.64 mm
Lens length 74.56mm
BF 9.05 mm
Embodiment 3
Focal length 51.50 mm
F number 1.03
Half angle of view 22.79
Image height 21.64 mm
Lens length 76.30 mm
BF 9.00 mm
Embodiment 4
Focal length 35.00 mm
F number 1.45
Half angle of view 31.72
Image height 21.64 mm
Lens length 116.13 mm
BF 9.00 mm
Embodiment 5
Focal length 35.00 mm
F number 1.03
Half angle of view 31.72
Image height 21.64 mm
Lens length 116.35 mm
BF 9.00 mm
Embodiment 6
Focal length 35.00 mm
F number 1.20
Half angle of view 31.72
Image height 21.64 mm
Lens length 117.93 mm
BF 9.00 mm
Embodiment 7
Focal length 65.00 mm
F number 1.24
Half angle of view 18.41
Image height 21.64 mm
Lens length 93.12 mm
BF 10.19 mm
Embodiment 8
Focal length 82.50 mm
F number 1.24
Half angle of view 14.69
Image height 21.64 mm
Lens length 117.14 mm
BF 14.70 mm
Embodiment 9
Focal length 82.50 mm
F number 1.03
Half angle of view 14.69
Image height 21.64 mm
Lens length 118.58 mm
BF 14.33 mm
Embodiment 10
Focal length 97.10 mm
F number 1.25
Half angle of view 12.56
Image height 21.64 mm
Lens length 138.22 mm
BF 19.37 mm
Embodiment 11
Focal length 130.00 mm
F number 1.25
Half angle of view 9.45
Image height 21.64 mm
Lens length 177.93 mm
BF 39.31 mm
Embodiment 12
Focal length 31.95 mm
F number 1.24
Half angle of view 22.78
Image height 13.42 mm
Lens length 47.62 mm
BF 6.10 mm