Chart shows how digital cameras killed analog cameras and how the selfie culture (almost) killed digital cameras after that!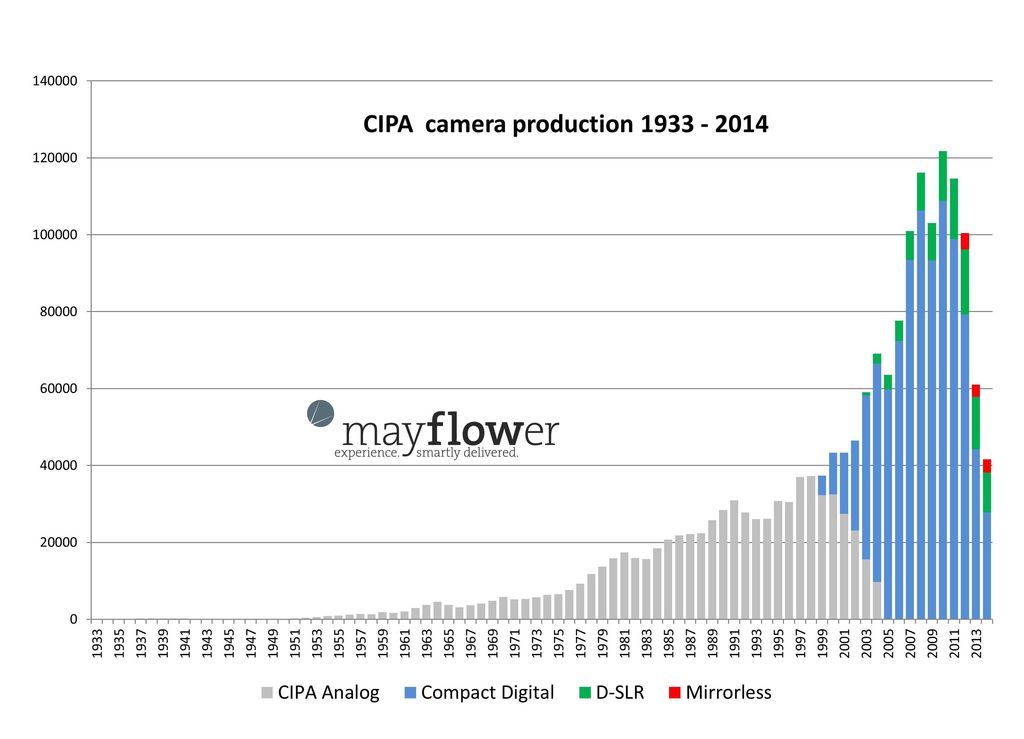 Heino Hilbig sent us that nice graph based on official CIPA data showing how the camera market changed during the last 80 years.
1) Analoge photography has been killed rapidly by the digital camera generation.
2) The Digital camera business got "almost" killed by the smartphone selfie generation :)
We don't know yet when the digital camera market fall will stop. And it's unclear what can save it…
PRESS TEXT from Heino:
The figures may invite for an "optimistic" view:
 
According to CIPA's camera production statistics, the recession of the camera market has slowed down a little. It decreased just 32.9 % until October 2014 compared to the same period last year.
Questionably, nevertheless, is  that the decline of the margin product SLR increased it's momentum. 25% this segment shrinked in 2014 so far – without hope that this decrease could be recovered by the sales of mirror free compact systems.
 
What impact this development has on the total photo market, becomes even more clear if we look to the sales ratios of the German photo market: In 2013 the share of cameras and lenses counted for not less than 85% according to European market research company GfK (sales of photo finishing products excluded) – a relation that most probably is not substantially different in other countries.
 
Can't this trend be stopped?
 
Even if manufacturers launch success stories over and over again (e. g. , light field cameras or action cameras)– such relatively small segments do not change the overall negative picture.
Simply the dominance of smart phones is far too big.
 
Is it? What if that would not be the case?
What would be, if the pure existence of the Smartphones is not the real cause for the recession of the photo market? What, if there are other causes too? Causes we could counter attack?
 
The figures, CIPA and GfK publish, give reason to hope that we don't have to accept the ongoing decline of the market, if we find the right strategies for manufacturers, service suppliers and photo trade.
 
Let us discuss about it:
 
In two presentations at the PMA/CES in Las Vegas we will show that pointing to smartphones or market saturation as an explanation of the shrinking camera market falls too short and we will indicate ways the industry could take to change the situation:
 
Monday, 5th of January, 2015, 9:00 o'clock
Photography, the Most Emotional Business of the World – Why then the Market Collapses? How can manufacturers, trade and press react to this?
 
Tuesday, 6th of January, 2015, 13:00 o'clock
How to Tackle the Collapsing Camera Market?
 
So, will we see us in Las Vegas?
 
Heino Hilbig
 
Managing Director
Mayflower Concepts
Hamburg – Germany
 
www.mayflower-concepts.com
 
e-mail: contact@mayflower-concepts.com