Bad news: Hasselblad CEO Oosting is stepping down!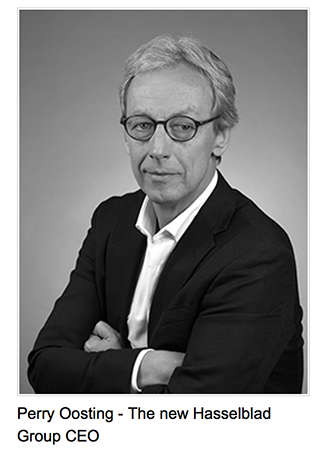 This doesn't look good for Hasselblad. Hasselblad CEO Oosting whom had the merit to steer the company into the right direction is now stepping down! It may sounds strange but the unexpected X1D camera success may played a crucial role in this: Since the X1D launch Hasselblad struggled to produce the camera in time and in a decent quantity. That's why DJI probably had to acquire Hasselblad shares to speed up the production process.
This is the official Hasselblad press release:
Hasselblad announces change of management structure
Gothenburg, January 2017
Hasselblad, the leader in high-quality professional medium format cameras today announced that Perry Oosting, CEO, will step down from his role by the end of this month.
Having guided Hasselblad to stability, strong sales as well as the partnership with aerial camera company DJI, CEO Perry Oosting has accomplished what he was asked to achieve and has decided to step down from his operational responsibilities and return to a role as advisor to the board.
"We would like to thank Mr Perry Oosting for his extraordinary efforts. Under his leadership a foundation for future growth is established and the company has extended its customer base substantially," said the Supervisory Board.
"In the beginning of 2015 I was asked to take the role as CEO to secure sustainable growth and prepare the business for the next steps in its development. During 2016, we launched several new products and a complete new electronic platform. The market reaction to the strategic direction and its products were overwhelming. I would like to thank all involved and foresee a bright future for the team of Hasselblad." said Perry Oosting.
The Board of Directors has, effective as of Feb 1, appointed Paul Bram, currently Advisor to Hasselblad, as Interim CEO.
"We are happy to announce Mr Paul Bram as an interim CEO. Paul is coming from his position within Hasselblad as Advisor and has a vast leadership experience from his time at Ericsson and Gambro," said the Supervisory Board.
"I am honoured to take on the role as interim CEO for this iconic and much-loved company. Hasselblad represents outstanding quality, passion for fine art and pioneering technology. Over the coming months we will continue the started path and strategic direction, including accelerating R&D and software development in Gothenburg, Sweden. Going forward I am immensely proud to be part of this continuing journey. " said Paul Bram.