Adobe wants to win the sympathy award and threatens customers to not use their old software or they might face potential claims of infringement

In a statement to AppleInsider, Adobe said:
Adobe recently discontinued certain older versions of Creative Cloud applications. Customers using those versions have been notified that they are no longer licensed to use them and were provided guidance on how to upgrade to the latest authorized versions.

Unfortunately, customers who continue to use or deploy older, unauthorized versions of Creative Cloud may face potential claims of infringement by third parties. We cannot comment on claims of third-party infringement, as it concerns ongoing litigation.
Macrumors writes:
Adobe is in the midst of a lawsuit with Dolby and has accused Adobe of copyright infringement and breach of contract, which could be the reason why past versions of Creative Cloud apps are now restricted.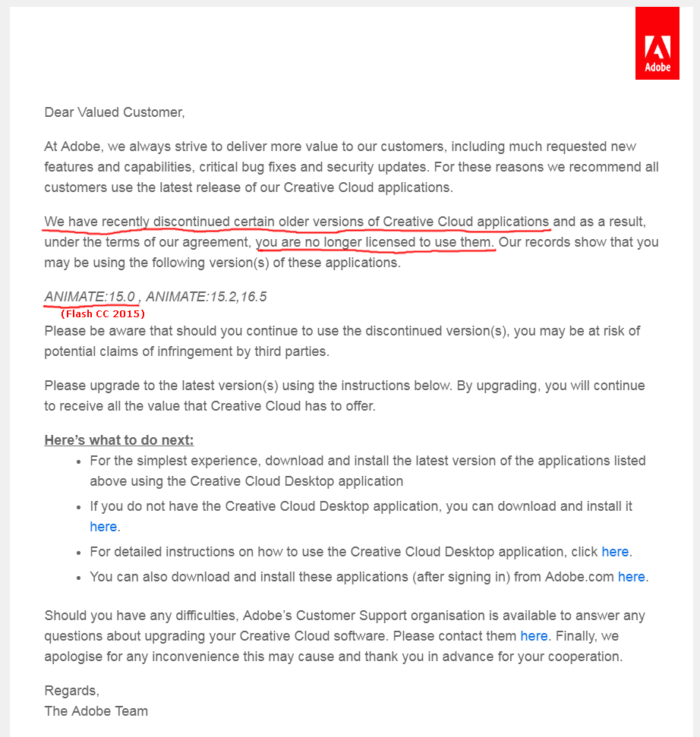 I know it sounds like Adobe wants to protect their customers. But that they may have troubles with Dolby is eventually their fault. And they have to protect customers from all legal troubles THEY have caused. People who paid for that software should be able to continue to use it!