One word....WOW! :)
I got this images and specs from the latest February issue of the french
Responsesphoto magazine (Click here to see the article)
. The screenshot you see here on top is actually the very first image of the full and final Fuji X PRO 1 mirrorless and interchangeable lens camera. It really looks like the digital version of the amazing designed
Contax G2 (Click here to see those cameras on eBay)
. Responsephoto camera specs:
- Three new lenses: 18mm (27mm equivalent) f/2.0, 35mm (53mm equivalent) f/1.4 and 60mm (90mm equivalent) f/2.4
- Responsephoto says the Camera+35mm lens kit will cost 1.300 Euro. That's actually just a bit higher than the
Fuji X100
price. The other two lenses will cost 600 Euro each.
- Responsephoto says the sensors name is X-Trans! R. writes that Fuji took some ideas from the classica film technology to create the new sensor which will beat the image quality of all current fulflrame sensors! The photosites will be of 6 different colors and disposed randomly, therefore moire will be avoided.
- There is no Anti Aliasing filter on the sensor.
- The lenses are made of metal.
- The camera has the new X-mount. The flange distance will be of 17.7 mm.
- The viewfinder is hybrid (optical and electronic). The optical viewfinder changes the view depending on the kind of prime lens you sue. This again is an idea coming from the
Contax G2
!
- The autofocus sensor is...external! There is a special AF sensor on the camera body!
UPDATE:
Here is the pic of the new lenses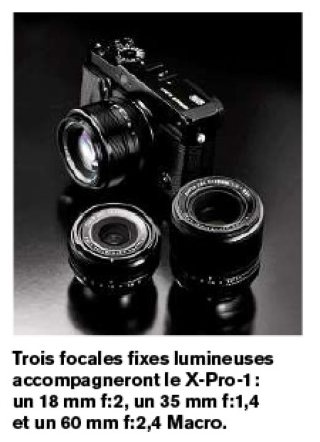 The camera is going to be announced next Tuesday! It's time for you to join the Mirrorlessrumors comunity by following our
RSS feed (Click here)
, join us on
Facebook (Click here)
and follow our
Tweets (Click here)
. You really don't want to miss any Fuji news ;) I am going to follow the announcement live! Check us daily!