You are browsing the archive for Reviews.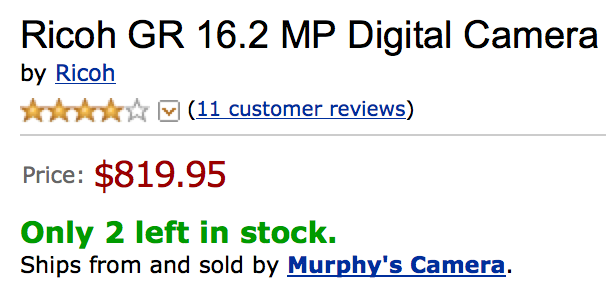 In USA it's almost impossible to find the new Ricoh GR in Stock. Like the Fuji X100s demand is many times higher than the shipped Stocks. Right now you can find two GR in Stock at Amazon US (Click here). But you have to pay a $20 extra.
There are also two new RX reviews to read at Trustedreviews and ThePhoBlographer! Great camera! Now le'ts see how the new Ricoh body module will be!
As you see from the image on top the Ricoh GR is no more available for preorder at Amazon US (Click here). I guess there are some issues with the production (or delivery) on the US market. That's why some people is trying to make some extra $$$ by selling their GR camera for $150 more on eBay (Click here).
While you are waiting for your camera you may spend some time by reading two new camera reviews. There is a new Ricoh GR Digital Camera Review at Digitalcamerainfo (Click here):
We haven't yet tested the $1,100 Nikon Coolpix A, but we can't find anything in its spec sheet that justifies its $300 price premium. Shots from the GR exhibited crisp detail, perfect exposure, and a rich tonality that looked great in color but really shone in black and white. The control scheme is clearly designed for easy one-handed operation, and in that regard it's a total success. The Ricoh GR may never be a camera for the masses, but it has all the ingredients of a cult classic.
And if you speak/read German click over at Der Spiegel (Click here) to read a second review..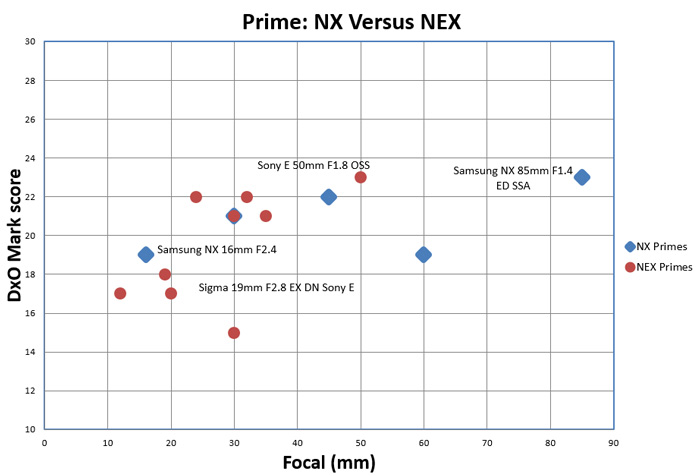 Samsung NX system may not be so popular yet but hey have some great prime lenses in their range! So le'ts take a look at the latest DxOmark test (Click here) where they measured five NX primes. And DxOmark writes:
In fact, as our comparison graph (above) shows the NX mount primes compare very favourably with the equivalent NEX mount lenses from Sony. But it's not only the NEX mount lenses that the Samsung models compete with. They've shown with the 85mm f/1.4 and some excellent sensors what they're capable of, but perhaps what's needed now is a high-end enthusiasts model to contend with the likes of the OMD-EM5, GH-3 and NEX-7.
I couldn't agree mroe with DxO! Come one Samsung, gives us some real nice Photo camera!
Enough Fuji talk! let's go back to the new Ricoh GR. Kai just posted this new video review and as usual added his touch of craziness to talk about that nice camera!
Some more Ricoh news here:
Ricoh GR review at DC.watch (Japanese).
Ricoh GR vs. Nikon Coolpix A Review at Pentaxforums.
Ricoh GR image samples on Flickr.