Rumors tidbits: New Sony FE lenses, Fuji X-E2 firmware, new GM7, new PEN.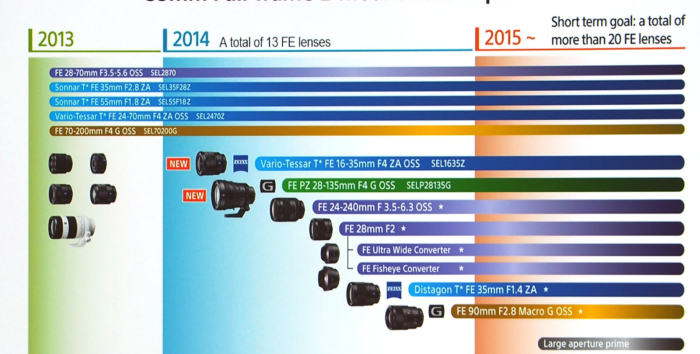 Let's make a short recap of the most recent mirrorless rumors:
Sony:
In November Sony could announce the new update FE lens roadamp. Til Spring 2016 Sony will release eight new lenses. There could be a new 24-70mm GM FE lens, new 85mm f/1.4 G FE lens, a telephoto lens and faster FE f/2.8 zooms (Source: SonyAlpharumors).
Fuji:
The X-E2 is rumored to get a massive overhaul of the AF system (Source: Fujirumors).
Panasonic:
The next new MFT camera from Panasonic will be the GM7. To be announced in Spring (Source: 43rumors).
Olympus:
The 300mm F/4.0 IS PRO Zuiko lens will be released within the next 2-3 months. And the next new MFT camera will be a completely overhauled new PEN.
Samsung:
Samsung didn't react to the latest news saying they will drop out of the camera business. That's worrying.
Nikon:
No news or rumors about upcoming Nikon 1 plans
Canon:
FF mirrorless coming in 12-18 months.