New this week: Samyang 45mm f/1.8 FE, Panasonic GX880, 7Artisans 50mm f/1.8
There are the new announcements of the week:
Panasonic:
Panasonic has an entire well paid division working hard to fool their potential customers. That's why the G90 is also named G95, G99 or G91 depending on the region were you live. They seem to ignore that people all over the world read news and reviews written from all over the world. So we would be all better of having ONE name.
This week they are proud their next messy name: The GX880! In Japan the same camera is named GF10. Now we can't wait to see what name they will choose when they announce the US version! I hope it's GA579X0F4!
Samyang:
Samyang has announced the new 45mm f/1.8 FE. But watch out! I guess some of the former Panasonic folks now work at Samyang. That's why the lens is branded as "Rokinon" in the US and "Bower" in some EU countries. Still, they can't match the genius from Panasonic. So please work harder Samyang and give us some extra brand names!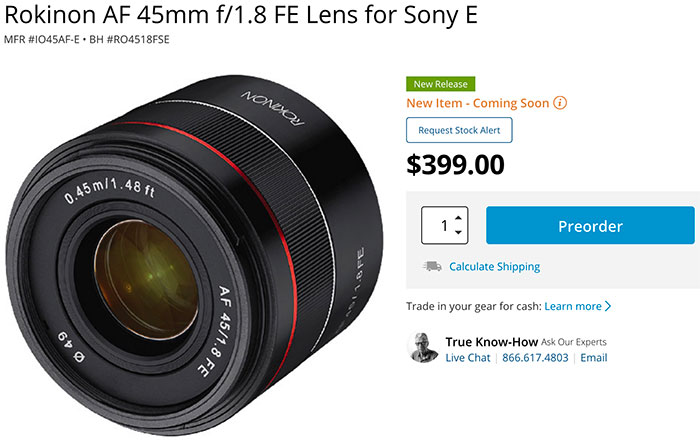 You can preorder the lens now at BHphoto, FocusCamera or Adorama.
7Artisan:
And finally 7Artisan announced the new 50mm f/1.8 APS-C lens for mirrorless system cameras. In this case the name of the lens is the same worldwide. Shoten is the name of the company behind this lens and funny enough they have multiple brand names: Meike, IBE optics, Zhong Yi, 7Artisans. And as far as I know some of their lenses also got rebranded with 125 different names too.

7Artisans in Stock here:
In the USA at Amazon, Bhphoto and Adorama.
In Europe at Amazon DE, Amazon UK, Amazon FR, Amazon IT, Amazon ES.
–
So that's it for today! If Panasonic needs me they can call me at 1232432843257GGF210CX for any help on finding new camera names!