Canon teases something BIG!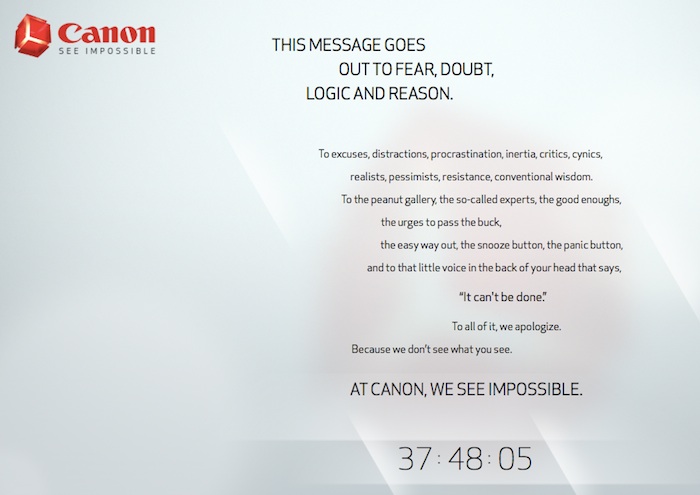 CanonWatch spotted that important Canon teaser posted on the New York Time! For weeks now it's rumored Canon will announce a new High Megapixel camera. And Canon itself also said they could launch a new "mirrorless" mount system. So maybe a serious FF mirrorless is finally coming for real?
I believe that's a "normal" DSLR camera with around 50MP. But I hope to be proved wrong :)
This is the teaser text:
THIS MESSAGE GOES
OUT TO FEAR, DOUBT,
LOGIC AND REASON.
To excuses, distractions, procrastination, inertia, critics, cynics,
realists, pessimists, resistance, conventional wisdom.
To the peanut gallery, the so-called experts, the good enoughs,
the urges to pass the buck,
the easy way out, the snooze button, the panic button,
and to that little voice in the back of your head that says,
"It can't be done."
To all of it, we apologize.
Because we don't see what you see.
AT CANON, WE SEE IMPOSSIBLE
Teaser at http://www.seeimpossible.usa.canon.com/